*** PUBLIC NOTICE RELEASE ***
February 24, 2019
BB&T - Sun Trust Merger
Two Legacies, One Future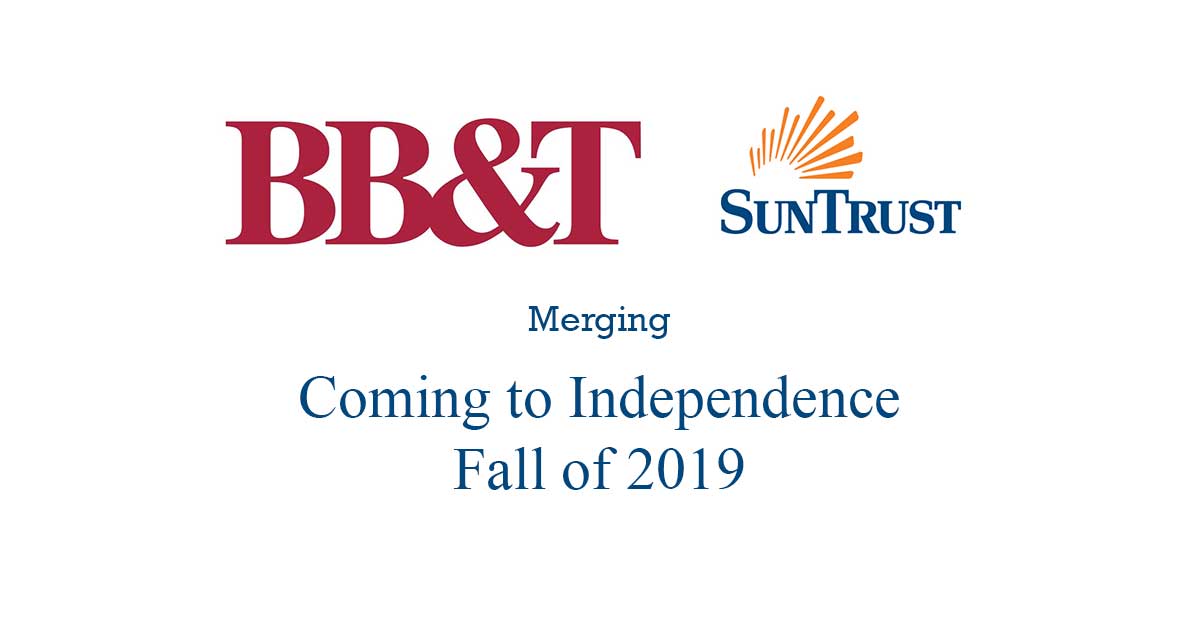 In case you haven't heard, Independence will be home to a branch office of a new major regional bank later this year. BB&T and Sun Trust banks are in the process of a merger which is expected to be completed near the end of 2019. The new name for the bank has not yet been made public but it will be neither BB&T nor Sun Trust at this point.
When this merger completes it will become the 6th largest bank in the country and give current BB&T account holders a major south and south-eastern regional presence. For those who work, travel, and play in the south and south-east it offers stronger banking, financial, and ATM access than with just BB&T alone.
Current BB&T branches located at 12010 Madison Pike in Independence and the location at 330 Mt Zion Rd serving Independence's west side should seamlessly transition. Independence residents will benefit from having banking access of this size right here in our home town. For those who have had to transition from The Bank of Kentucky to BB&T this could quite possibly be the end of transitions. Becoming the 6th largest bank in the nation potentially limits any further merger and acquisition possibilities but it does leave account holders of other smaller banks such as Huntington, 5/3 and US Bank wondering if we will be in the merger crosshairs in the near future.
All in all, this merger will have a small impact in Independence but for those interested in bigger and better opportunities it adds benefits where few existed before.
The official press release below:

Two Legacies, One Future
"BB&T and SunTrust are coming together in a transformational merger of equals to create the premier financial institution in the country. The combination of these two iconic franchises creates the sixth-largest U.S. bank with 275 years of combined history serving clients and communities in some of the best markets in the country. With our shared mission- and purpose-driven cultures, our combined company will have an accelerated capacity to invest in transformational technologies for our clients."
Quick Fact Sheet